Monesha, Year 6, Speaks Out to Thousands of Change Makers at London WE Day
On 4 March 2020, thousands of change-makers attended The SSE Arena for WE Day, a celebration of a year of action taken to transform communities and change lives. World-renowned speakers, A-list performers and thousands of young people took part in the event, which included a speech given by our very own Monesha, a Year 6 Kensington pupil and TTLT Pupil Parliament member.
Monesha, was asked to speak about our Pupil Parliament's contributions to WE Walk for Water, a fundraising event to improve access to clean water for developing communities around the world.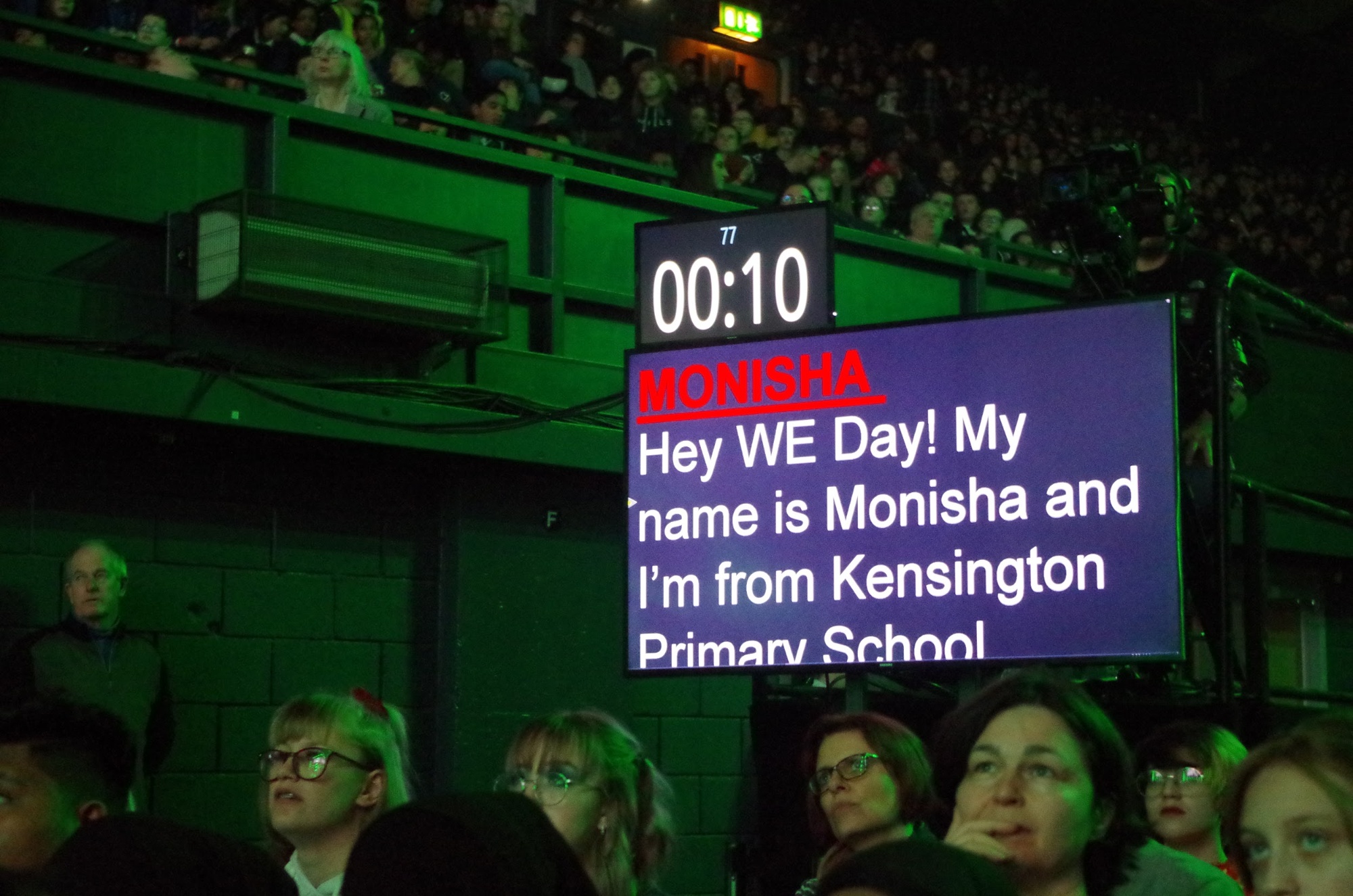 Monesha, speaking to a packed SSE Arena crowd (which would intimidate even the most seasoned of speakers) spoke with clarity and confidence about an issue which is close to her heart. Monesha was selected by Miss Elliot, Kensington's School Council leader, as recognition of her continued contribution to pupil voice at her school and across our trust, including her membership and commitment to Debate Mate, School Council and our TTLT Pupil Parliament.
Monesha's speech sat amongst a star studded line up of celebrities, role models, heroes and activists: Idris Elba gave a shout out to all the teachers in the room in his speech about the importance of positive role models and instilling self belief in young people in order for them to flourish. "You are important," he asked the audience members to repeat to each other. Lewis Hamilton spoke about climate change and our need to take positive action. "We don't have to be perfect to be part of the solution," was his message to the crowd. Margaret Trudeau, Canadian author, actress and social activist and Julia Gillard, former Australian Prime Minister, spoke together about gender equality, inviting audience members of both genders to put aside stereotypes and fight for equality.
Pupil Parliament members from Kensington, Curwen and Ranelagh attended the event, following their three years of commitment to WE Charity work. So who inspired our young leaders the most? Shania in Year 5, chose Alexandra Adams, a deaf blind 25 year old trainee doctor. "She was blind and deaf, but she still got through all the hard stuff in life," said Shania. "One person can change the world. That's how she inspired me." Jerusha in Year 5, and Krish in Year 4 enjoyed listening to Maya Ghazal. "She was a Syrian refugee," explained Jerusha, "It really inspired me because when people bring you down, you should just climb up."
In addition to the many inspirational speakers, the event also hosted a number of vibrant performances from artists such as: singer songwriter, Gunnar Ghel; pop talent, L Devine and dancing trio Princess K, Omarion and Demarihad, amongst others.
Our Pupil Parliament are part of the WE Schools programme, which is a series of social action programmes that engage teachers and young people globally to empower them with the skills, knowledge and motivation to bring positive change in themselves and the world. Our Pupil Parliament is currently fundraising for WE Support Health, empowering communities sustainably in Sierra Leone.