Professional Development Opportunities
Our Sports Hub offers high quality support and corporate professional development to empower all staff to deliver exceptional Physical Education. Take a look at our opportunities below to see how you can benefit from our expertise. For more information, please contact our Sports Hub Director, Paul Belcher, at paul.belcher@ttlt.academy or 07903 175001
Level 5 Certificate: Primary School Physical Education Specialism

The Tapscott Learning Trust are pleased to inform you that we again hosting a Level 5 Certificate in Primary School Physical Education Specialism Course.
This is a recognised qualification that aims to up skill primary school teachers and higher level teaching assistants to improve the overall delivery of the physical education curriculum within primary schools. On successful completion of this qualification, delegates will be able to assist in raising the standards within primary school physical education teaching and learning.
The proposed dates are:
Monday 14th December 2020 - 2 hours (Introduction meeting via ZOOM)
Monday 1st February 2021
Monday 29th March 2021
Monday 26th April 2021
Monday 24th May 2021
Monday 14th June 2021
Monday 5th July 2021
The Guided Learning Hours (GLH) are as follows:
Level 5 – 141 hours which includes 45 tutored hours and 96 independent learning hours
The course will be delivered by ALL FOR SPORT at The Tapscott Learning Trust, 22 Harrier Way, London, E6 5XG (North Beckton School)
The cost of the course is £1250 + VAT
To reserve a place and be sent more information please email paul.belcher@ttlt.academy with the following information:
Name:
School:
Email:
Tel No:
British Gymnastics Courses for Teachers Introductory Level

The Tapscott Learning Trust will be hosting the following British Gymnastics Introductory Level Course. https://www.british-gymnastics.org/courses/6239/teachers-introductory-gymnastics
Date: Thursday 5th November 2020
Time: 9.00am – 4.00pm
Venue: TBC
Cost: £160.00 (Lunch included)
This course is designed for adults working with children at Key Stages One and Two. It is a one-day course, which is a practical introduction to teaching Gymnastics The course is certified by British Gymnastics, as Introductory Level Gymnastics. It is regarded as the required qualification for teaching Gymnastics to primary age pupils. No previous experience is required, neither is it necessary to be a qualified teacher, nor a PE teacher.
Programme
Introduction: Warm up and Shapes
Connection Skills: stepping, spinning, jumps, turns, leaps and cartwheel
Rollings Skills: log, egg, side, forward, backward, teddy bear
Balance: points and patches, including headstand and handstand
Hand apparatus: hoops, balls and ropes
Partner Balances: working with partner and small groups
Course Tutor
Gary Kirby
Gary Kirby was a GB international gymnast. He is an International Performance Coach, and has coached medallists in both Olympic Games and World Championships. He was appointed men's Technical Director at the 2002 Commonwealth Games, and was subsequently Gymnastics Development Officer for Liverpool. He is one of Britain's leading Gymnastics judges, having officiated at World and European Championships and two Commonwealth Games
To reserve a place and be sent more information please reply by email with the following information:
Name:
School:
Email:
Tel No:
Making Sense of Autism 1/2 day - Via Zoom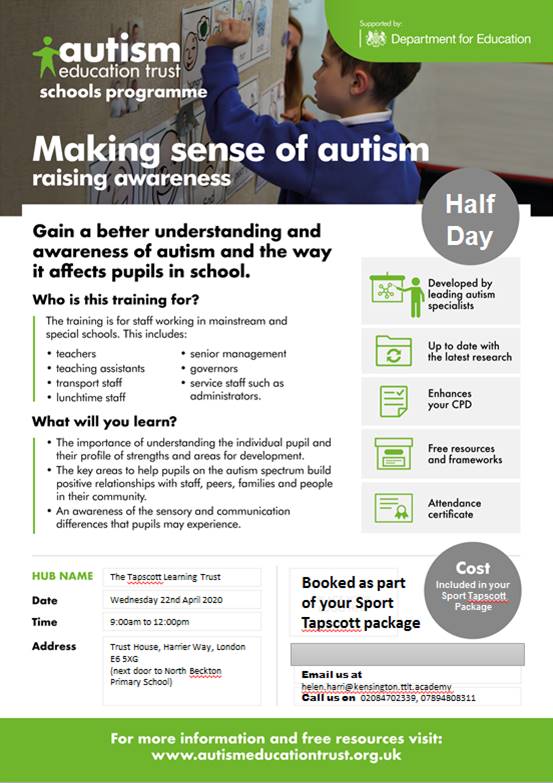 Good Autism Practice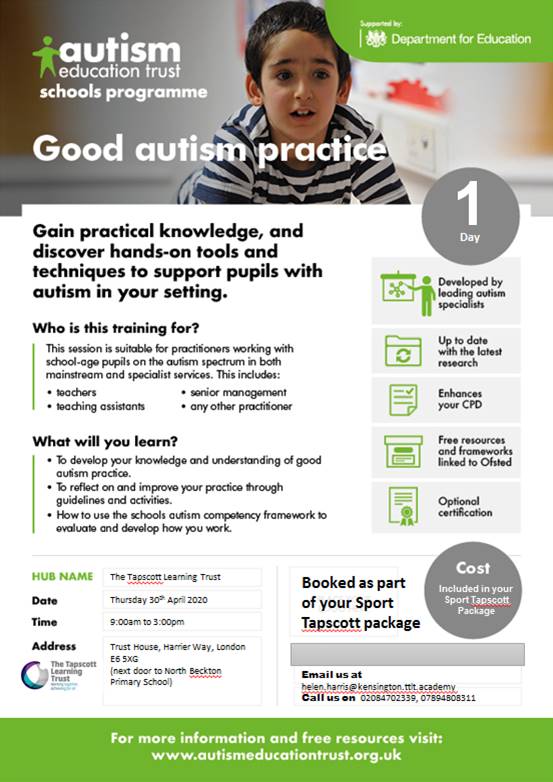 Support Teacher and Teacher of School Swimming

This blended learning course will allow you to complete the theoretical elements of your qualification online through interactive activities.
We will then arrange your practical training day once the leisure centres have reopened. Your practical poolside learning will include teaching school swimming lessons, so you can gain practical experience.
We run courses at leisure centres and schools across England so you can be assured you will never have to travel too far, to complete your qualification.
Who is the course designed for?
This training programme has been specially developed to help school teachers, HLTA, volunteers in a school and PGCE students gain the right skills and knowledge to deliver quality school swimming lessons to meet national curriculum requirements.
This programme will help you to understand:
How to Identify activities that will positively impact students learning
Engage with pupils, helping them to progress
Key Stages 1 and 2 programmes of study
Health and safety considerations of organising and delivering a school swimming programme
How swimming and water safety can be delivered to meet school swimming outcomes
Prerequisites
You must be at least 18 years of age.
NQT Training 1/2 Day PE - Via Zoom

A look at the National Curriculum for PE and practical lessons delivered by PE Specialists.
To reserve a place and be sent more information please email paul.belcher@ttlt.academy with the following information:
Name:
School:
Email:
Tel No:
NEW! LTA Primary School Teacher Training Course

Based on brand new, innovative content, this 2 hour Primary School Teacher Training Course has been developed by teachers for teachers, to help you deliver outstanding PE lessons with confidence.
As well as teaching fundamental movement skills and physical literacy, tennis is a great way of developing personal and character skills.
Course Content
The course demonstrates how tennis can be delivered to a whole class of children in a small space and how it can be adapted and differentiated for all learners. Activities focus on both improving pupils' physical and character skills.
Free Resources
Every teacher attending the course receives a free pack of resources including: an activity flipbook, pupil achievement certificates and stickers. The activity flipbook provides a range of ideas for Warm Ups, Body & Ball, Racket & Ball, and Skill Application (Games) exercises.
All teachers also receive free access to our comprehensive range of online resources, including detailed lesson plans (fully mapped to the curriculum, with learning objectives) and a wide range of personal development (character) and cross curricular resources.
Finally, teachers attending the course (limited to one per school) will receive a £250 voucher to spend on 10 hours free coaching with a local LTA Accredited Coach!
Pre-requisites
This course is aimed at both qualified and trainee primary school teachers, as well as teaching assistants who are involved in delivering or supporting physical education in a primary school environment.
Venue and time TBC