The Inclusion Quality Mark Inclusive School Award For Kensington Primary

"Kensington Primary School is a truly remarkable place... There is a wealth of inclusive practice that touches all aspects of the school community – pupils, staff, parents and partners".
Inclusion Quality Mark provides schools with a nationally recognised framework to guide their inclusion journey. The IQM team help schools evaluate and measure how they are performing; empowering them to improve and grow. And when school's are successful, the IQM recognise their achievement through a system of highly valued awards that provide external validation of their inclusive status.
There are over 5,500 schools in the UK who have either received an IQM Inclusive School Award, or are actively working towards meeting the standard required. I am happy to announce that Kensington Primary School is now one of these schools who have received such an award!
The IQM recently visited Kensington Primary School and the assessor praised it greatly mentioning that, "from the moment one arrives at Kensington it is clear that you are entering an inclusive school. From the warm greeting at the main reception desk to the immediate "family feel" that is sensed as you come through the doors, Kensington shouts "WELCOME."
Congratualtions to Kensington Primary School for achieving this amazing award!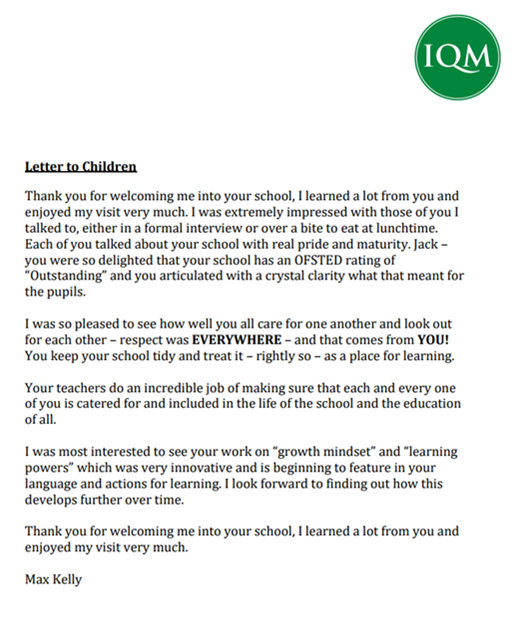 To read the full report please find it attached at the bottom of this page.
IQM Congratulates Kensington Primary.