The Tapscott Learning Trust 2020-21 Awards

Due to COVID-19, the Tapscott Learning Trust's Annual Awards event, usually a glitzy affair held at a prestigious local venue was relocated online. Undeterred by the COVID-19 situation and still intent on recognising the inspirational achievements within the Trust, pupils, staff, parents, governors and sponsors were invited to connect online to celebrate.
There were 17 award categories this year and choosing the winners was extremely difficult. Ranelagh Primary School's Mr James Jenkins, winner of the Outstanding Contribution in Developing Home Learning Award said 'it was an honour to even be nominated, all staff worked incredibly hard in transitioning to home learning and then back again. It was fantastic to be able to support staff in going the extra mile for the children. We have all developed new skills that we can take forward with us, as we hopefully return to some form of normality.'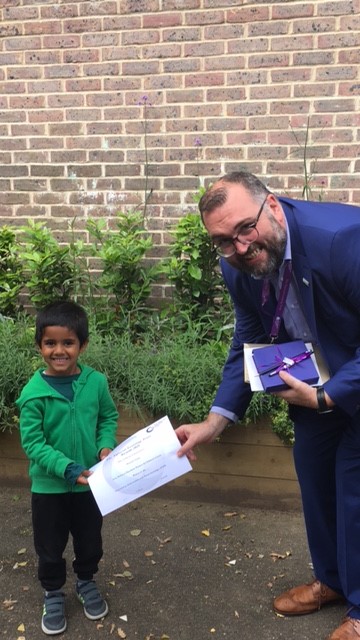 Andi Smith, winner of The Tapscott Learning Trust, Lifetime Achievement Award said "I would like to thank the Members, Trustees and Staff of the TTLT for this award; and in particular CEO Paul Harris whom I have had the great pleasure of knowing and working alongside since 2000. This award means more to me than receiving a national accolade - because it comes from the community of schools and colleague that I have been a part of for over 20 years. I had every faith in Paul and the people that he gathered around him in the early days when the inception of a trust was born. From the outset we established a bed rock of solid vision, principles and values that have the child at the centre of learning and the community. This has not wavered over the passing years. The TTLT family of schools has grown from strength to strength to become a beacon of excellence that offers the children and community opportunities for them to become responsible, creative people."
The Tapscott Learning Trust's CEO Mr Paul Harris later visited pupils that had won awards to congratulate them in person, and hand out prizes and certificates. Mr Harris said, 'We are extremely fortunate to have so many incredible pupils, staff members and volunteers at each of the schools within the Trust, it is therefore so important that we take the time to recognise and celebrate their exceptional achievements. Each year, this event acknowledges the work and progress that has taken place and the excellence that has been demonstrated throughout the academic year. I would also like to thank our generous sponsors and local suppliers for their support.'
Due to the unprecedented circumstances experienced by everyone this year due to the COVID-19 pandemic, it has been more important than ever to recognise and reward the triumphs made within our school communities. It is the hard work, dedication and commitment of individuals working as a team that make the Tapscott Learning Trust the success that it is today.
You can watch the TTLT 2020/21 Awards film at https://bit.ly/3hFai