Baseball
On Friday 31st March 2023 the Sports Hub were invited to be a 'Hub School' and lead the programme to deliver MLB First Pitch to 12 Newham Schools. Working with BaseballSoftballUK and YST each school received teacher training, equipment and resources to deliver 6-8 weeks of baseball activity to Year 6 and Year 5.
The 12 schools are:
Curwen, Kensington, North Beckton, Ranelagh, Earlham, EKO Pathways, Gainsborough, Kaizen, Sir John Heron, Carpenters, Selwyn and Ellen Wilkinson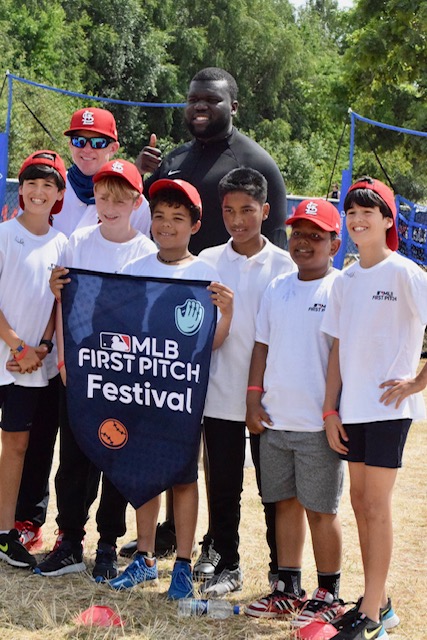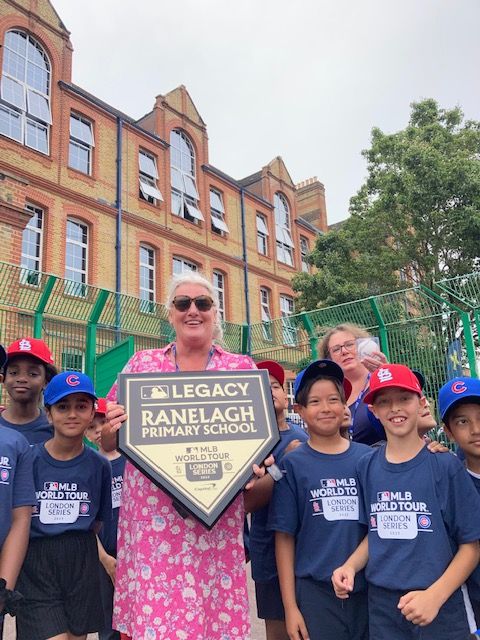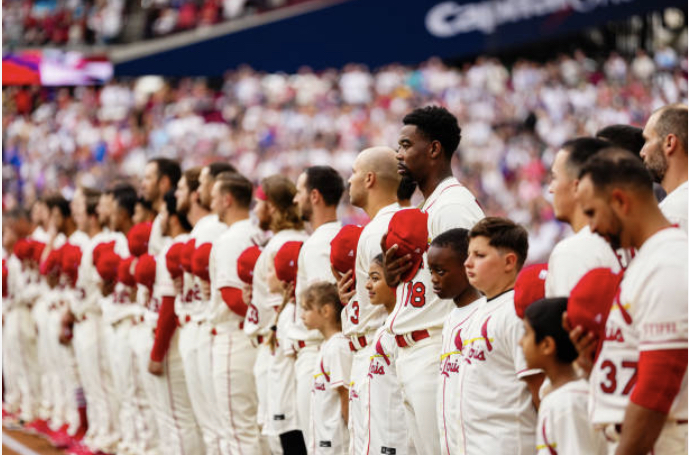 MLB First Pitch
Major League Baseball (MLB) is focused on increasing awareness of baseball across the globe
with the ultimate goal of making our sport a global passion.

Schools that participate in MLB First Pitch will receive:
First Pitch resource cards, which contain over 60 activities that can be delivered either in school PE lessons, as well as during lunch breaks or after school activities. The activities canbe adapted for younger or older players, or children who require additional support, usingthe STEP principle.
An equipment pack which includes baseball bats, balls and bases, along with other equipment that can be used throughout the activities.
Resources to support schools to deliver a festival or competition internally or within their network of local schools.
The program provides content orientation and training to upskill teachers to support the development of children and young people's health, wellbeing and wider skill and personal development. There is also a set of cross-curricular resources, which teachers can use to introduce MLB and baseball to students in a non-PE setting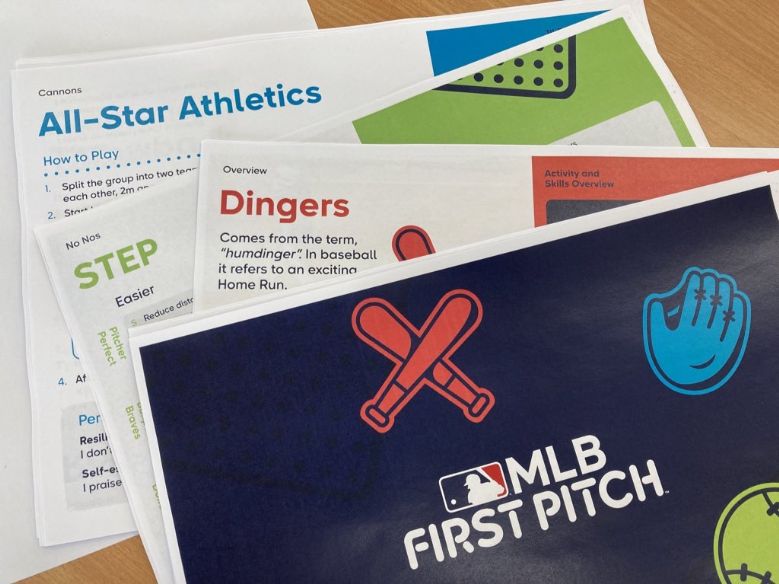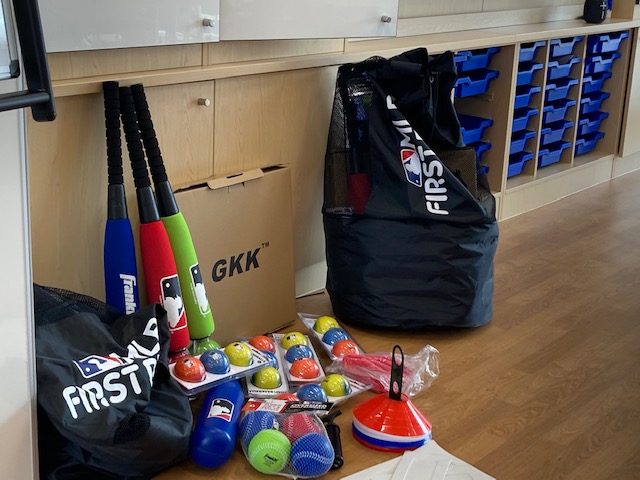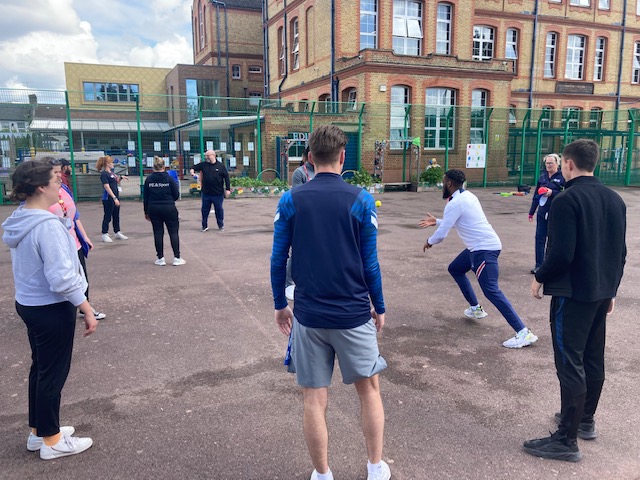 First Pitch Festival - Thursday 22nd June 2023
Pupils from our 12 schools attended the MLB First Pitch Festival on Thursday 22nd June 2023 at Hopkins Field, Olympic Park. They all left with a t-shirt, baseball bat and ball, but most importantly an introduction to a new, exciting sport!
Watch this video for more information...
Workout Day - Friday 23rd June 2023
As part of the First pitch programme schools had the opportunity to watch the Cubs and the Cardinals practice at the London Stadium.
Not only that some of our pupils went pitch side to interview the players.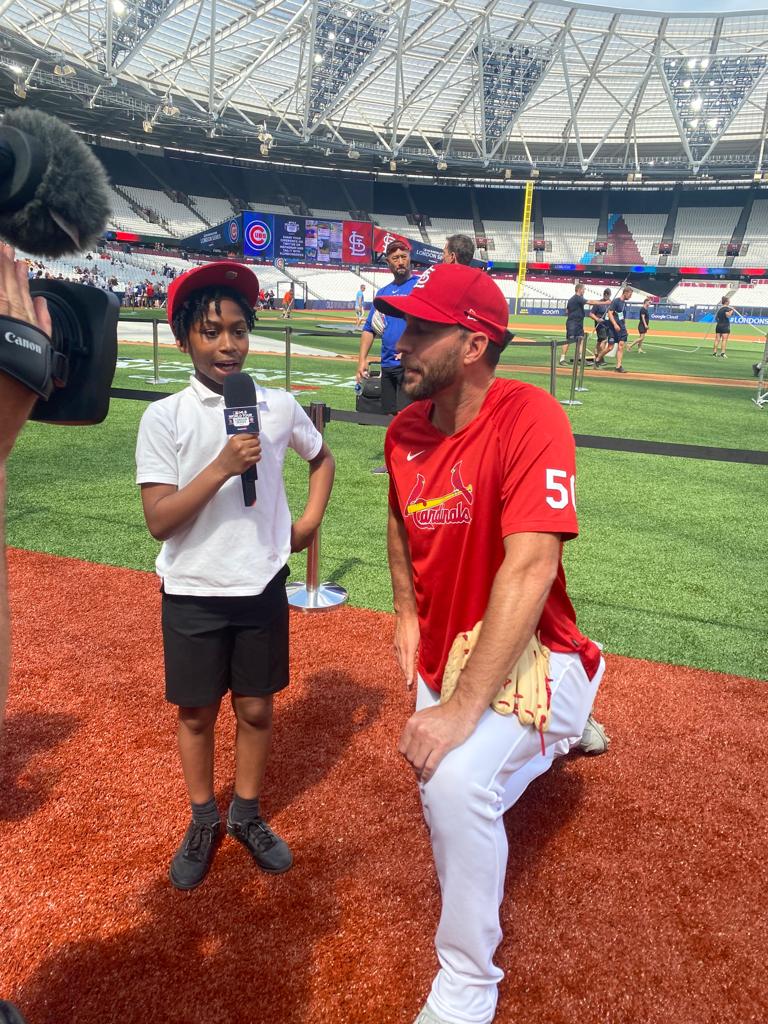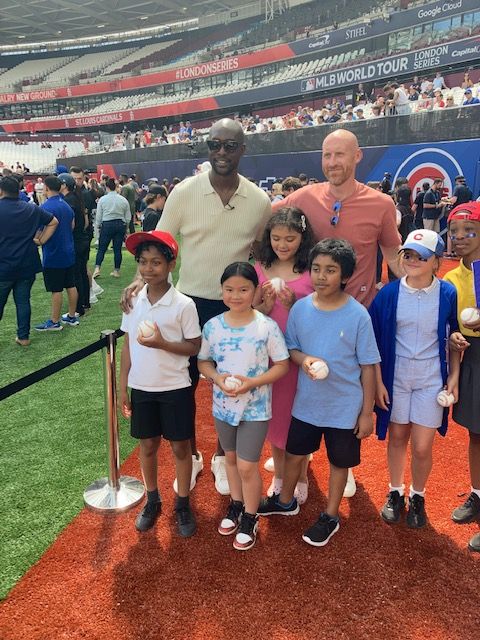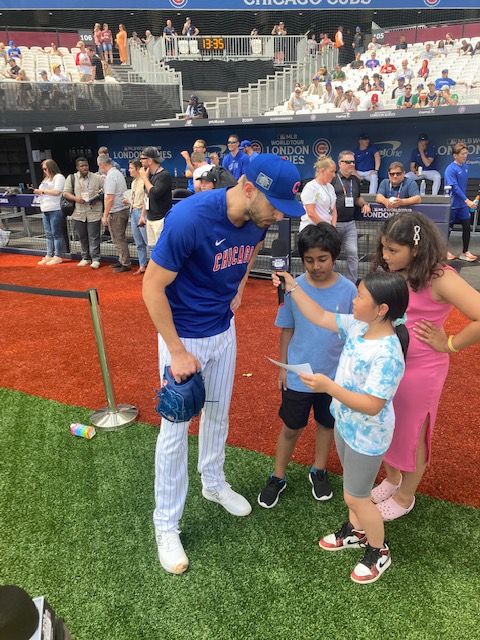 Ranelagh Primary School gets baseball diamond as part of the London Series Legacy
On Friday, 23 June 2023, MLB Commissioner Rob Manfred, along with the Chicago Cubs and St. Louis Cardinals and some very special guests, visited Ranelagh Primary School in East London for a special announcement - a donation of $35,000 for a permanent baseball diamond.
This is just the start of the London Series legacy - to grow the game for future generations across the United Kingdom.
Ranelagh School pupils walkout with the Cubs and Cardinals
36 lucky pupils from Ranelagh Primary School were mascots on Saturday and Sunday as the Cubs played the Cardinals in the MLB World Tour London Series
5.....4....3...2..1.Ranelagh Rockets are GO!
On Friday 22 September 2023, Ranelagh Primary School officially opened its brand-new baseball diamond. During the MLB World Tour: London Series, Commissioner Manfred announced that MLB, in continued partnership with BaseballSoftballUK, would be donating $25,000 to build a permanent baseball diamond for the school and its greater community. The legacy gift from MLB also came with support from the Cubs and Cardinals. Alicia Gonzalez, the executive director of Cubs Charities, and Cardinals team president Bill DeWitt III both announced that they would be contributing an additional $5,000 to the project, raising the total donation to $35,000.
Ben Ladkin, Managing Director MLB Europe, said "During the MLB World Tour: London Series weekend, there were elite baseball players in a stadium just over one mile away from where we are today (Friday). At the same time, we had future baseball players beginning their journey through the MLB First Pitch programme on the playground of Ranelagh Primary School. Their experience of our sport has been boosted by the development of the school playground into a baseball field, and I hope that will inspire baseball stars of the future."
Ranelagh schoolchildren have been enjoying the vibrant development of the playground since the beginning of the academic year, in their PE lessons, during break and lunchtimes, and as part of the newly established Ranelagh Rockets Baseball Club for the school and community.
Representatives from MLB Europe, BaseballSoftballUK, Greater London Authority, London Borough of Newham, Tapscott Trust schools and the local community attended the launch event, expertly compered by David and Genesis, both aged 10. Ranelagh pupils showed off their throwing and hitting skills through MLB First Pitch activities before the school choir gave a rousing rendition of 'Take Me Out to the Ballgame' neatly including the 'Rockets' name. The ceremonial first pitch was thrown by Jon Rye, MLB London Series Legacy Manager, followed by a call from Leony (aged 10) to 'Play Ball', slightly different to when she announced it in the London Stadium in front of thousands of MLB fans.
Jon Rye, MLB London Series Legacy Manager, said "I am truly honoured to have thrown the first pitch on such a great facility for children in Newham. The first-of-its-kind school playground baseball field in the UK will provide such an inspiration for children to participate and demonstrates some of the impact that we are working to achieve through the MLB London Series Legacy Programme."
To complete the celebration, four of the Tapscott Learning Trust primary schools participated in an MLB First Pitch festival during the afternoon, where many more children had the opportunity to play on Ranelagh's baseball diamond.
Paul Harris, CEO Tapscott Learning Trust, said "At the Trust, we firmly believe that ensuring our children are healthy and happy is essential to help in their personal and educational development. The gift from MLB, Chicago Cubs, and St Louis Cardinals has allowed us to really develop something very special. Baseball will grow within our school and ensure greater accessibility to the sport, not only within our schools but for the community as well."
Leigh Welburn, Headteacher Ranelagh Primary School, said "The smiles on the faces of the children who returned after playing their part in the MLB London Series in June is something I will never forget. The children walking onto the field, accompanied by roar of the crowd, is something they have told me will live in their memory forever. I am absolutely thrilled that the legacy is lasting… and this day marks the beginning of something incredibly special here at Ranelagh and within our Trust."