Multilingualism / EAL Development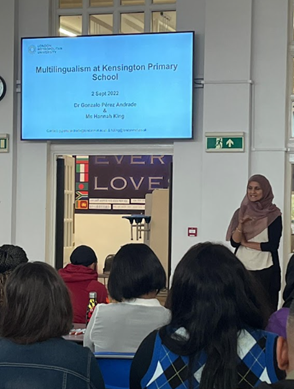 Managing the smooth admission for children with EAL and establishing effective EAL provision is key priority in our MAT. Within TTLT, this area is lead by Soofia Amin who has previously been an ESOL lecturer, has worked in Adult Education and is currently an Assistant Head Teacher at Kensington Primary.
We believe that promoting a multilingual approach provides schools with an asset based approach to languages and puts languages at the forefront of education. Believing that all languages have a place in education will create a space that is linguistically and culturally inclusive for all.
Our vision is to create a platform at the Multilingual Hub to bridge the gap between Academia and Practitioners for Multilingualism. Creating a space where educators can learn more about current research in Multilingualism and see examples of best practice in Multilingualism.
TTLT offer a range of services to support schools in delivering excellent EAL/Multilingualism provision. Along with our 4 key sessions this year (see below) we can also offer bespoke support in a variety of areas. These include:
INSET days / Staff meetings / 1:1 support / Support for EAL leads across your Trust/Borough
These sessions can be created on various themes such as:
Welcoming and teaching new to English learners

Reviewing your news arrival induction and assessment process

Mid-phase admission procedures and best practice

Supporting refugees and asylum seekers

Teaching strategies for different EAL levels in the classroom

Effectiveness of the EAL assessment framework in your setting

Distinguishing between Multilingualism and SEND

Multilingualism- pedagogy and practice