Team Teach
Why Choose Train Tapscott?
Our Training Hub runs nationally recognised programmes and bespoke training courses across a broad range of expertise. We offer high-quality professional development in SEND and have accredited trainers to deliver Team Teach Level 1 and Level 2 courses.
What is Team Teach?
Team Teach is an accredited, award-winning provider of positive behaviour training. Working with Education, Health and Social Care settings, it is a mutually respectful, accessible and practical positive handling training tailored to the needs of your organisation. By joining one of the TTLT accredited courses, you can be confident that your staff remain up-to-date with statutory guidance and legal changes in this essential area.
Who is the training for?
Positive behaviour training can be beneficial for everyone in your organisation. Our programmes are carefully designed to deliver proven, safe strategies to help manage behaviours which challenge. Through our courses, individuals acquire a range of strategies to de-escalate conflict and to promote more positive behaviour choices; they are delivered by experts with extensive training in educational and health care settings. This award-winning training will provide skills and strategies to all employees in your organisation, so they can better support their pupils' emotional well-being and safety.
For programme details and pricing, please click here.
To organise group bookings or discuss your requirements, please email Helen Harris on helen.harris@ttlt.academy
Update May 2023: Bookings now open for September 2023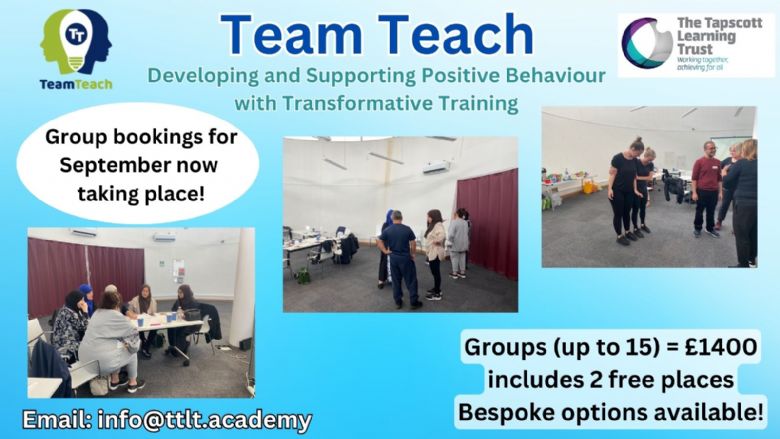 More information about the course content can be found here:
Please see the leaflet below for remaining courses this year...